Visa Debit Cards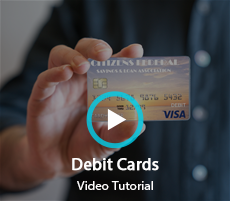 Upon Approval, VISA debit cards are issued to checking account customers.
They can be used with a PIN at ATM machines to get cash or used at stores to purchase goods or services. The one day limit for ATM withdrawal is $500.00 and the purchase limit is $1500.00.
Use of your card is a withdrawal from you checking account and the amount will be deducted immediately from your balance.
For lost or stolen cards please call 1-800-472-3272.
Visa Gift Cards
Convenient Visa® Gift Cards are on everyone's wish list!
Use everywhere Visa debit cards are accepted.
Security of plastic, convenience of cash.
Free 24/7 card account information.
Give the gift they'll appreciate: the opportunity to shop for themselves.
Manage your Convenient Visa Gift Card online. View your balance and transaction history. Questions? Call 1-800-486-0292.
Fee Schedule
| | |
| --- | --- |
| Cost to purchase Convenient Visa® Gift Card | $4.95 |
| IVR (interactive voice response) balance inquiry fee (via an 800 number) | Free |
| Live agent assist (via an 800 number) | Free |
| Monthly inactivity fee (after 12th month of inactivity) | $2.50 |
| Lost or stolen card replacement (via U.S. mail) | $15.00 |
Limits
| | |
| --- | --- |
| Gift Card load amount limits | $10.00 to $500.00 |
| Number of reloads | Not reloadable |
| ATM/Cash withdrawal limits | Not available |
Issued by First Century Bank, N.A., pursuant to a license from Visa U.S.A. Inc.
ATM Cards
Enjoy the convenience of our Citizens Federal ATM card by accessing your statement savings account at any ATM machine nationwide.
Use your ATM card and personal identification number to deposit or withdraw from your account.
A small per transaction fee will apply when using any machine other than Citizens Federal.
Citizens Federal Savings and Loan Association is part of the MoneyPass surcharge-free ATM network, which translates into a significant benefit to our accountholders. MoneyPass has thousands of ATMs coast-to-coast and the network continues to grow. Since each and every MoneyPass ATM is surcharge-free, accountholders won't have to worry about paying a visiting bank's fee to access their money.
What does all this mean for accountholders? Regardless of where you live, work or travel, you will be sure to find a MoneyPass ATM nearby. Look for the MoneyPass logo and use your existing Citizens Federal Savings and Loan ATM or debit card to access funds. If you currently do not have an ATM or debit card you may apply for one at our office.
Find the MoneyPass ATM location nearest you at www.moneypass.com or use the mobile site or locator apps for your smart phone when you are on the go. Please feel free to call our office at 937-593-0015 with any questions you might have regarding this program.
Account Switchover Assistance
Changing banks can be tedious. That's why we want to help. Citizens Federal and our staff want to help you make Citizens Federal your new home for all your banking needs! When you decide to open an account with us, let us know that you want to take advantage of our Account Switchover Assistance. We'll set a time to meet with you where we will walk you through the process and help you put together a plan for switching over to Citizens Federal. Below you'll find a summary of the assistance you'll receive through our Account Switchover Assistance.
Setting up online banking and mobile banking.
Assistance to get all automatic deposits and withdrawals transferred to your new account.
Set up all online bill payments through online banking.
Help in signing up for eStatements.
To take full advantage of our Account Switchover Assistance we suggest that you bring the last few months of statements from your previous bank account. Also, we suggest you bring the account number and your previous bank's routing number. If you have an electronic device that you would like to use, you are welcome to bring it. If not, we have iPads available for this process. Lastly, you will need to bring the necessary identification to open the account with us. Typically, a driver's license with your current address will be sufficient.
Voice Banking
1-844-539-6763
Use Citizens Federal Voice Banking for accurate 24-hour account information.
Dial using a touch-tone telephone and follow the easy steps for entering your User ID and Pin Code. If you do not have a User ID and Pin Code, please contact us at 937-593-0015.